Wed Mar 12
Bandaoke Relaunch
Mar 12, 10:00 pm, FREE
Ever wanted to be the lead singer of your own rock band?????? Karaoke with the backing of a live band! Bog The Donkey. The competition starts off again looking for Cork's best singers. All entrants get a complimentary drink with prizes given to the best singers. Cash Prizes for Winners!In association with Bulmers
Fri Mar 14
Big Generator
Mar 14, 10:00 pm, FREE b4 11.30
Big Generator is a four piece rock band based in Portumna, Co. Galway, Ireland. The band consists of Paul Cantillon (vocals/bass guitar), Barry Conboy (lead guitar), Liam Martin (vocals/guitars/keyboards), Robbie Casserly (vocals/drums).The band has toured extensively in the U.K, Sweden, Holland, Germany, Belgium, America and of course their native Ireland. Big Generator has also enjoyed a considerable amount of success and all of it achieved without the backing of a major label. The guys have also shared the stage with names like Ocean Colour Scene, Big County, Whitesnake and Joe Satriani to name a few. Big Generator have released two albums "On The Line" and "The Unreleased" . The albums have received rave reviews in Holland where it has been on release. The band are signed to Green Street Records, a Dutch label.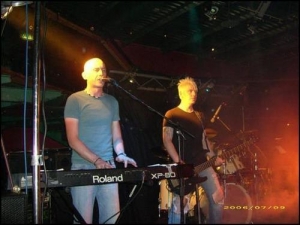 Sun Mar 16
Roisin Dubh
Mar 16, 10:00 pm, FREE
Roisin Dubh is a four-piece ballad group playing a mixture of Irish traditional music, contemporary songs and original compositions. Rosin Dubh are John Kelly (Guitar/vocals), Sean Byrne (Bodhran/Whistle/Hamonica/Vocals), Willie Delaney (Banjo/Mandolin/Bouzouki/Fiddle/Vocals and Mickey Miley (Bass/Vocals). Formed in '91 they have entertained audiences at major venues and festivals in Ireland, the UK, Europe and North America and in late 2003 completed a French tour playing with the Dubliners and Ronnie Drew. Strongly influenced by ballad groups such as the Dubliners, Dublin City Ramblers and the Wolfe Tones, and more recent groups like Moving Hearts, Stocktons Wing and the Pogues. Rosin Dubh have developed a distinctive and entertaining style that is uniquely theirs.
Mon Mar 17
Paddy's Day with The Paddies
Mar 17, 10:00 pm, FREE
Double header for Paddies Day with the one and only Paddies!!The Paddies are a five-piece band, which write and perform their own unique and personal style of music. The band has been described at various times by different people in and out of the music business as a rock band, a folk band, a traditional band, and even a country band. One of Ireland's longest-established Professional bands and still one of the most exciting, The Paddies cater for all tastes and all functions. With their impressive variety of material, professional attitude and exceptional reputation as a live band The Paddies can guarantee a great night of entertainment for everyone The Celtic influence comes from Johnny McCarthy and Dave Hallissey. Johnny's roots lay deep in the tradition of Irish culture which edges its way into the songs and performances of the band. Dave's accordion playing proves the fact that traditional players should not be just stuck in pubs. Put a box player in a band like this, and it will make your knees shake.
Wed Mar 19
Plan B
Mar 19, 10:00 pm, FREE
Plan B are a two piece rock/pop covers band from Limerick. They have been touring for a number of years together. They have established themselves as one of the best live bands on the scene in Ireland.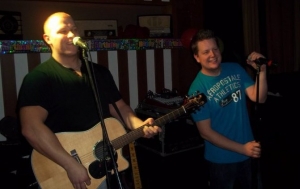 Fri Mar 21
The Seducers
Mar 21, 10:00 pm, FREE b4 11.30
Formed in 2006 The Seducers are fast becoming one of Ireland's most sought after cover acts. The band is based in Meath and comprises of 5 experienced musicians with the ability to cater for any musical taste. A top of the range sound system and state of the art lighting, combined with real on stage energy and the desire to play every show at their best has seen them build a large following of fans in this short space of time. Covering hits from every genre from the 50′s right up to current chart hits, their philosophy is simple: take the best music of all time, recreate it authentically, and have a good time doing it.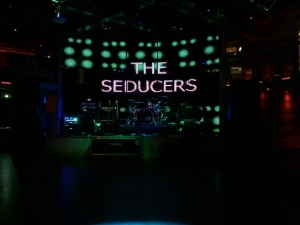 Sun Mar 23
Boogie Band
Mar 23, 10:00 pm, FREE
Formed in 2005 the Boogie Band have quickly established themselves as an exciting live act and gained a large following throughout Munster. The Boogie Band specialise in providing 100% live music entertainment for Weddings and Corporate Events.
They have become one of the most reputable and sought-after bands from the Cork area. Band members are 'head-hunted' not only for their musical ability, but also for their experience in the world of entertainment. Drawing on a vast repertoire of songs and musical styles enables The Boogie Band to adapt to suit any audience.
Energetic performances, vast repertoire and a high level of musicianship reinforced with a high-end professional sound system and top quality lighting, really make an unforgettable entertainment experience!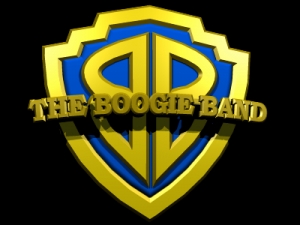 Wed Mar 26
Bandaoke
Mar 26, 10:00 pm, FREE
Ever wanted to be the lead singer of your own rock band?????? Karaoke with the backing of a live band! Bog The Donkey. The competition starts off again looking for Cork's best singers. All entrants get a complimentary drink with prizes given to the best singers. Cash Prizes for Winners!In association with Bulmers
Fri Mar 28
Bluemoose
Mar 28, 10:00 pm, FREE b4 11.30
Bluemoose are constantly on tour, both at home and in the UK, bringing their energetic and entertaining live show to thousands of frantic spectators, through an average of 240 shows annually. Consisting of four experienced professional musicians from various parts of Ireland, the cover band based out of Wexford, have been performing at some of Irelands highest profile events, headlining and also sharing stages with some top name chart acts both at home and abroad. Not only do Bluemoose put extraordinary energy into their stage performance but also into their show production as a whole. Top of the range sound equipment combined with state of the art lighting and effects separates them from the norm. The ability to cater for any occasion has seen Bluemoose build up an enviable following of supporters and their constant interaction with these loyal friends has seen their popularity and profile blossom.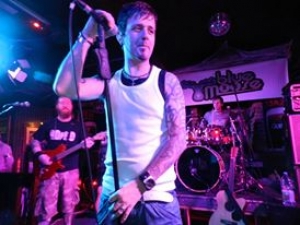 Sun Mar 30
Papa Zitas
Mar 30, 10:00 pm, FREE
The Papa Zitas are busy making a name for themselves as the most exciting new big band to have emerged on the music scene in IRELAND in a long while! With an array of hits that encapsulate the very essence of the Motown era, their set ensures the dancefloor is heaving from the beginning to the end of the night! Consisting of a thundering brass section, a slick and energetic rhythm section, and smooth and sweet vocal harmonies from three soulful divas, this nine piece band delivers a show-stopping performance every time. Covering hits from The Temptations, The Supremes, Marvin Gaye, and Stevie Wonder, to name but a few, The Papa Zitas certainly lift their audiences Higher and Higher at every opportunity!