GIG GUIDE
Sun May 19
Boogie Band
May 19, 10:00 pm, FREE
Formed in 2005 the Boogie Band have quickly established themselves as an exciting live act and gained a large following throughout Munster. The Boogie Band specialise in providing 100% live music entertainment for Weddings and Corporate Events.
They have become one of the most reputable and sought-after bands from the Cork area. Band members are 'head-hunted' not only for their musical ability, but also for their experience in the world of entertainment. Drawing on a vast repertoire of songs and musical styles enables The Boogie Band to adapt to suit any audience.
Energetic performances, vast repertoire and a high level of musicianship reinforced with a high-end professional sound system and top quality lighting, really make an unforgettable entertainment experience!
Wed May 22
Bedrock
May 22, 10:00 pm, FREE
Over 300,000 years ago during the Palaeolithic Era, dinosaur's roamed the land, cavemen hunted for their prey and the very first band was formed! They went under the guise BEDROCK!
OK, maybe they were formed a little more recently! That aside, BEDROCK is an exciting party band hailing from Mitchelstown, North Cork and are full of energy, highly entertaining and topped to the brim with quality musicianship and vocalists.
Formerly known as Reconnect, BEDROCK is a rebranding of this excellent group fronted by the enigmatic Jenny O'Keefe. Over the last decade, Jenny has fronted party bands with her strong vocal ability and charismatic performances. Joined on stage with an array of talented musicians and vocalists, BEDROCK creates a great sound and some amazing harmonies.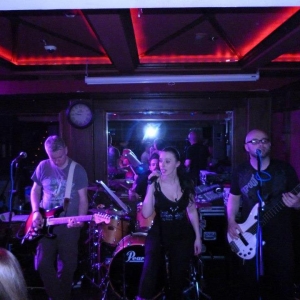 Fri May 24
Clockworks
May 24, 10:00 pm, free b4 11.30pm €5 after
Clockworks have been playing all the well known Cork City and County venues for the last five years. The set-list ranges from old classics to modern pop and popular rock. Any gig is a guaranteed night of frolics and craic! Straight up Rock..with a dash of Oldies and a twist of Pop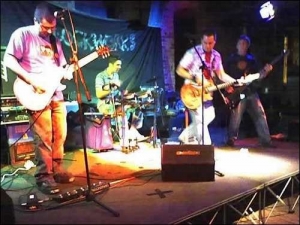 Sun May 26
Happy Dayz
May 26, 10:00 pm, FREE
Pop, Rock and everything else!!
Richard Kirby – Guitar and Lead Vocals
Brian Dwyer – Keyboards and Vocals
Denis Crowley – Drums
Keith O'Sullivan – Bass and VocalsCork
HappyDayz is a new band
Formed in 2010, weddings, corporate and functions.
Wed May 29
Bandaoke Final
May 29, 10:00 pm, FREE
Backing of bog the donkey, the final of Bandaoke takes place tonight. Cash prizes up to €1000 to be won sponsored by Bulmers
Fri May 31
Electric Lemon
May 31, 10:00 pm, free b4 11.30pm €5 after
Electric Lemon have been playing clubs and pubs up and down the country for the past 6 years. They have performed to audiences in the UK, Netherlands and Germany and have become one of the most popular acts on the Irish music scene.
Electric Lemon are one of the hardest working bands in the country. The band have established a loyal following all over Ireland in the last number of years, as word of mouth spread about the quality of their live show. Their up-tempo set includes crowd favourites from the likes of Snowpatrol, The Killers, U2, The Kaiser Chiefs, Razorlight, Artic Monkeys and much, much more