Sun Dec 21

Free Beer

10:00 pm, FREE
Free Beer is a wedding band from Limerick and Cork, who are quickly becoming one of the most sought after groups fro weddings, dinner dances, parties and other private functions. Featuring mandolin, fiddle, electric guitar, bass and drums. Free Beer beer a huge repertoire of Rock, Pop, Irish and other classics. to draw on. Free Beer was quickly building a very favourable reputation with punters and bar-owners alike. Their hard work and commitment was being rewarded and when they were asked to play support to The Saw Doctors in the Dolan's Warehouse in Limerick, the guys knew they were doing something right. Later that year, Free Beer got the crowd warmed up before Shane McGowan and The Pogues took to the stage. That night will live long in the memory of Free Beer's band members. If you are looking for a great night out with live music, then Free Beer won't disappoint. With an energy and stage-presence that will impress, a night with Free Beer will live with you long after the night is over . Playing venues in Limerick, Cork, Galway, Clare, Kerry and Tipperary, Free Beer will, undoubtedly, be coming to a town near you soon.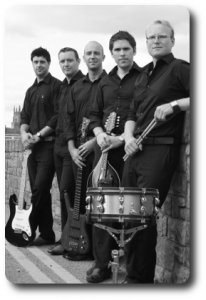 Fri Dec 26

J90

10:00 pm, Free before 11:30pm
J90 is a 5 piece band based in Cork that play to thousands of people every week nationwide, at a rate of over 250 gigs per year. J90 have mesmerized audiences with their amazing performances and crowd interaction. The band is made up of 5 talented young musicians from Cork and are known to cover songs from the likes of Bruno Mars, Pharrell, Avicii, Macklemore, Queen, ACDC and even Beyoncè into their own distinctive style. J90 manage to fuse rock, hip hop, funk and pop into their show, delivering a perfect party experience to their fans. Despite J90′s hectic schedule, they always remain up to date with their gig material, instantly covering any song that they know will get people onto the dancefloor. Their original music also showcases J90′s energy and party-attitude which has been built-upon over their years in the live music scene. Their sound is so catchy and radio friendly, that J90 have had three Number 1 singles in the download charts along with huge radio play on all major stations as well as a music video that was broadcast on all major national TV stations.
| | |
| --- | --- |
| | |



Sun Dec 28

The Kilkenny's

10:00 pm, FREE
The Kilkennys are a 4-piece traditional Irish ballad group, who have been entertaining audiences all over the country, and internationally for the past ten years, with their unique and accomplished style of playing and vocal talent. Known as one of the hardest working bands in Ireland, they perform the length and breath of the country up to five nights a week. Up to now, they have been performing as Uisce Beatha, but due to various crucial reasons and the fact that a few bands with the same name have sprung up around the world, the decision was taken to change the name to The Kilkennys, as the boys are very proud of their black and amber roots! This name change coincided with the band signing up to Dolphin Records, the record company of such Irish music legends as Mary and Frances Black, Liam Clancy, Dolores Keane, Ronnie Drew, Jack L and Sonny Knowles.



Wed Dec 31

Uv5

10:00 pm, Free before 11:30pm
UV5 will shake the room wherever they play! They have been known to do structural damage with there earth shattering bass! Their sound is quite similar to that of Irelands top nightclubs! UV5 cover the most up to date music and chart topping hits! From Lmfao ,Prodigy, Jason Derulo, Neyo all the way back to Guns n Roses, Rage against the machine and generally whatever makes the crowd dance and go crazy ;)



Fri Jan 2

Adam's Locker Plus Simon Casey

10:00 pm, Free before 11:30pm
Experience the unmistakable, unforgettable, 'leave your granny at home' kick-ass sounds that is Adamslocker with very special guest Simon Casey, who was a runner up in the Final of You're a Star! Bringing you a high-energy live performance, this 4 piece band from the heart of ireland has rocketed up the live venue circuit in only a short time. With their good looks and fine arses they have left teenagers and OAPs alike weak at the knees and screaming for more.Not to mention that these guys can really play and sing. Brothers Paul, Des and Simon Sheerin hailing from athlone have a musical tightness rare to find. With their effortless talent and singing abilities, nothing is impossible. Front man Joe Rabbette with roots in offaly has a voice unmatched and provides the skills and charisma to send the atmosphere through the roof. Just ask his mammy….!!! With a mix of classic rock and chart toppers, these guys have their fingers on the pulse of the latest material and blast it out with no apologies to the original bands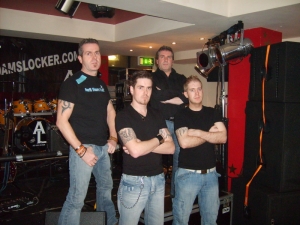 Sun Jan 4

The Seducers

10:00 pm, FREE
Formed in 2006 The Seducers are fast becoming one of Ireland's most sought after cover acts. The band is based in Meath and comprises of 5 experienced musicians with the ability to cater for any musical taste. A top of the range sound system and state of the art lighting, combined with real on stage energy and the desire to play every show at their best has seen them build a large following of fans in this short space of time. Covering hits from every genre from the 50's right up to current chart hits, their philosophy is simple: take the best music of all time, recreate it authentically, and have a good time doing it.



Wed Jan 7

Traffic

10:00 pm, FREE
Traffic is a cover band based out of Limerick, Ireland. They play an energetic mix of music from the 60's, 70's, 80's, 90's & today.



Fri Jan 9

Thank Funk

10:00 pm, Free before 11:30pm
Thank Funk are without a doubt Ireland's hottest new cover act on the scene. Started in late 2013 this band has already achieved great things. Thank Funk are playing in all of the country's top venues and within a couple of months of their formation they have already agreed contracts for european performances in 2014. The band fuses funk, disco and soul into a show that cannot be beaten. Everything from the classics to the charts are performed in an original fashion that make an evening with 'Thank Funk' unforgettable to their audiences.



Sun Jan 11

Roisin Dubh

10:00 pm, FREE
Roisin Dubh is a four-piece ballad group playing a mixture of Irish traditional music, contemporary songs and original compositions. Rosin Dubh are John Kelly (Guitar/vocals), Sean Byrne (Bodhran/Whistle/Hamonica/Vocals), Willie Delaney (Banjo/Mandolin/Bouzouki/Fiddle/Vocals and Mickey Miley (Bass/Vocals). Formed in '91 they have entertained audiences at major venues and festivals in Ireland, the UK, Europe and North America and in late 2003 completed a French tour playing with the Dubliners and Ronnie Drew. Strongly influenced by ballad groups such as the Dubliners, Dublin City Ramblers and the Wolfe Tones, and more recent groups like Moving Hearts, Stocktons Wing and the Pogues. Rosin Dubh have developed a distinctive and entertaining style that is uniquely theirs.



Wed Jan 14

Andy Dunne

10:00 pm, FREE
Andy Dunne is an Entertainer / Songwriter from Cork City Ireland. His solo performances have been described as "Magical.." – PROC. Though never an easy task, it's becoming harder and harder for Andy to slip into any one genre as he continues to perform possibly the most eclectic set of songs you will hear from a solo performer and his natural onstage wit and banter add another dimension to what is already a great night's entertainment.



Fri Jan 16

Bluemoose

10:00 pm, Free before 11:30pm
Bluemoose are constantly on tour, both at home and in the UK, bringing their energetic and entertaining live show to thousands of frantic spectators, through an average of 240 shows annually. Consisting of four experienced professional musicians from various parts of Ireland, the cover band based out of Wexford, have been performing at some of Irelands highest profile events, headlining and also sharing stages with some top name chart acts both at home and abroad.
Not only do Bluemoose put extraordinary energy into their stage performance but also into their show production as a whole. Top of the range sound equipment combined with state of the art lighting and effects separates them from the norm. The ability to cater for any occasion has seen Bluemoose build up an enviable following of supporters and their constant interaction with these loyal friends has seen their popularity and profile blossom.



Sun Jan 18

Boogieband

10:00 pm, FREE
Formed in 2005 the Boogie Band have quickly established themselves as an exciting live act and gained a large following throughout Munster. The Boogie Band specialise in providing 100% live music entertainment for Weddings and Corporate Events. They have become one of the most reputable and sought-after bands from the Cork area. Band members are 'head-hunted' not only for their musical ability, but also for their experience in the world of entertainment. Drawing on a vast repertoire of songs and musical styles enables The Boogie Band to adapt to suit any audience. Energetic performances, vast repertoire and a high level of musicianship reinforced with a high-end professional sound system and top quality lighting, really make an unforgettable entertainment experience!



Wed Jan 21

Traffic

10:00 pm, FREE
Traffic is a cover band based out of Limerick, Ireland. They play an energetic mix of music from the 60's, 70's, 80's, 90's & today .



Fri Jan 23

Gorilla Radio

10:00 pm, Free before 11:30pm
Brand New Exciting Cover Band "GORILLA RADIO" Hit the scene with a killer set mixing commerial rock,hip hop and rap to name just a few genres which will have crowds coming back for more more more…..!!! Familiar faces to the avid irish rock fan this brand new foursome will definetly shake you to your boots,have you dancing in the streets and bouncin off the walls with high energetic stage performances you wont forget in a hurry!!



Sun Jan 25

Amazing Apples

10:00 pm, FREE
The Amazing Apples' are a 5 piece folk/rock band from Galway. Their profile has risen quickly in the past few months, as word has spread fast about this musically versatile and talented band with massive charisma and huge live appeal. Their popularity has snowballed throughout Ireland since last March when the band focused on original music, shaking off their covers band beginnings to develop their own unique sound. That sound is Irish/Americana with tons of personality and high-energy performances. All the members are multi-instrumentalists incorporating bouzouki, mandolin, keyboard and fiddle for their live show.



Wed Jan 28

Plan B

10:00 pm, FREE
Plan B are a two piece rock/pop covers band from Limerick. They have been touring for a number of years together. They have established themselves as one of the best live bands on the scene in Ireland.



Fri Jan 30

Big Generator

10:00 pm, Free before 11:30pm
Big Generator is a four piece rock band based in Portumna, Co. Galway, Ireland. The band consists of Paul Cantillon (vocals/bass guitar), Barry Conboy (lead guitar), Liam Martin (vocals/guitars/keyboards), Robbie Casserly (vocals/drums).The band has toured extensively in the U.K, Sweden, Holland, Germany, Belgium, America and of course their native Ireland. Big Generator has also enjoyed a considerable amount of success and all of it achieved without the backing of a major label. The guys have also shared the stage with names like Ocean Colour Scene, Big County, Whitesnake and Joe Satriani to name a few. Big Generator have released two albums "On The Line" and "The Unreleased" . The albums have received rave reviews in Holland where it has been on release. The band are signed to Green Street Records, a Dutch label.